A diverse neighborhood in Scarborough's northwest, Agincourt is poised to become a major transportation hub in the coming years.
Neighborhood Profile
Much of Agincourt's retail and commercial nodes are situated along Sheppard Avenue, with several being located at major intersections on Finch Avenue. Canadian Pacific's large rail yard takes up a large portion of the neighborhood's eastern section, while Highway 401 forms its southern border. In between, however, a network of walking and cycling trails runs throughout the neighborhood. Additionally, numerous parks are scattered throughout the area, putting most residents within walking distance of green space.
Transportation in Agincourt
Frequent TTC bus service is available on all major neighborhood thoroughfares, with several routes continuing north past Steeles Avenue into York Region. All routes connect to one of subway Lines 1, 2 or 3, with Scarborough extension of Line 2 planned to include a station in the area. Direct service to Downtown Toronto is available from Agincourt GO station, and travel time to Union Station is under 30 minutes. Trains on the Stouffville Line run hourly seven days a week outside of rush hour, with frequencies planned to be expanded under GO's Regional Express Rail plan. Highway 401 is easily accessible from much of the neighborhood, while Highway 407 can be reached via short drive to the north.
Agincourt Condos & Homes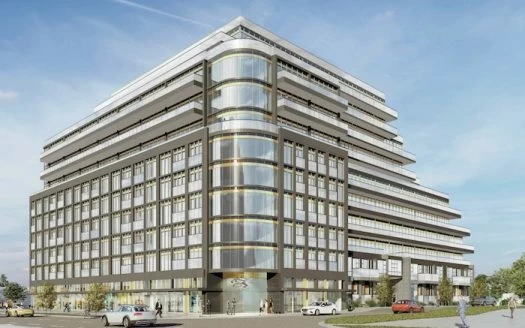 The new condos at 4415 Sheppard Ave East boast not only easy access to …[more]
The new condos at 4415 Sheppard Ave East boast not only easy access to some of Scarborough's most prominent d
[more]