A largely residential community, Rathwood sits in east-central Mississauga and is situated in close proximity to some of the Greater Toronto Area's most popular amenities.
Neighborhood Profile
Etobicoke Creek runs through the heart of Rathwood. Its route through the neighborhood is paralleled by a series of walking/cycling trails, which also provide easy links to a series of other parks and leisure spaces. Rockwood Mall serves as the main retail district, while Dundas Street (located a short distance to the south) also hosts a number of shopping and dining options. Both national chains and independent businesses are present here.
Transportation in Rathwood
MiWay provides frequent bus services along all major neighborhood thoroughfares, with most east-west routes offering connections to Line 2 Bloor-Danforth at Islington subway station. Additionally, the Dixie Road and Tomken Road stations on the Mississauga Transitway are just to the north, and are served by numerous express bus routes. Many routes also run west to the nearby Mississauga City Centre district, where connections can be made destinations throughout the city and (via GO Transit bus services) the Greater Toronto Area. Drivers can take advantage of close proximity to Highway 401 and Highway 403, while Pearson Airport is also easily accessible via car or public transit.
Rathwood Condos & Homes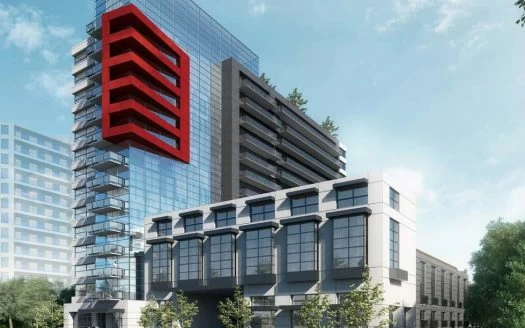 Highlight Condos are the epitome of urban living. With a combination of spacious condominiums, …[more]
Highlight Condos are the epitome of urban living. With a combination of spacious condominiums, luxurious townhomes
[more]