In addition to being located in close proximity to several popular regional destinations, Markland Wood is defined in large part by the ring of parkland that surrounds it.
Neighborhood Profile
Markland Wood's geography is reminiscent of an island-complete with waterways forming a large part of its boundaries. As a result of being largely surrounded by Etobicoke Creek and one of its tributaries, the neighborhood is only accessible via a small number of streets. This has led to less congestion on residential streets, as well as a feeling of exclusivity amongst residents. Walking and cycling trails along Etobicoke Creek offer easy access to nearby Centennial Park. Most of the available commercial and retail options within the neighborhood are located along Burnhamthorpe Road, while the nearby Cloverdale Mall provides a wealth of shops and restaurants.
Transportation in Markland Wood
Toronto Transit Commission and MiWay bus routes serve both Burnhamthorpe Road and Bloor Street. To the east, both agencies provide connections to Line 2 Bloor-Danforth at Kipling or Islington Stations, while MiWay offers service to various destinations in Mississauga. On the eastern edge of the neighborhood, buses on The West Mall provide transfers to the Mississauga Transitway and various GO Transit routes at Renforth Station. For drivers, Highways 401 and 427 can be easily reached.
Markland Wood Condos & Homes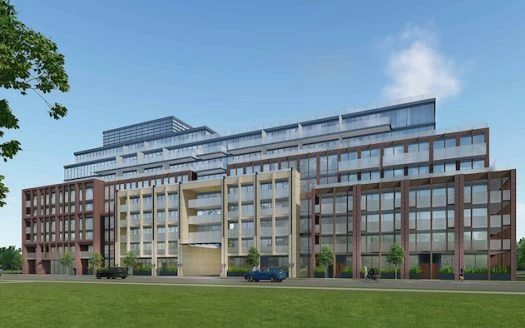 Enjoying easy access to Pearson Airport and nestled just steps away from Etobicoke Creek, …[more]
Enjoying easy access to Pearson Airport and nestled just steps away from Etobicoke Creek, the new 240 Markland Dr C
[more]