Neighborhood Profile
Condos & homes in Ajax are in close proximity to large amounts of parks and recreational spaces – all in a diverse variety of locales. Along Lake Ontario, the Ajax Waterfront Park offers access to the Great Lakes Waterfront Trail and is home to an expanse of lakefront green space. In the north, the Greenwood Conservation Area is home to children's play area and a number of walking trails. Additionally, residents will be able to easily access the wide array of shopping and dining options at RioCan Durham Centre, the commercial strip along Harwood Avenue, or the city's original downtown centered along Kingston Road.
Transportation Access in Ajax
GO Transit's Lakeshore East rail line serves Ajax seven days a week, with frequencies of at least every half hour. Service is available as far east as Oshawa and as far west as Aldershot, with trips to Downtown Toronto taking approximately 34 minutes. Both GO Transit and Durham Region Transit (DRT) offer local bus service. Durham Region Transit also offers Pulse, a bus rapid transit service along Kingston Road that offers connections to the University of Toronto's Scarborough campus and Downtown Oshawa. Drivers can access Highway 401 in the centre of the city, while Highway 407 is located in the far northern districts.
Ajax Condos & Homes
The Ravenscroft Towns (at 1577 Ravenscroft Rd) will be a fantastic new addition to …[more]
The Ravenscroft Towns (at 1577 Ravenscroft Rd) will be a fantastic new addition to Ajax's charming northern l
[more]
The new Ravenscroft & Taunton Condos (at 361 Taunton Rd) will offer the chance …[more]
The new Ravenscroft & Taunton Condos (at 361 Taunton Rd) will offer the chance to enjoy a family-focused living
[more]
The new Monarch Hills Condos (at 282 Monarch St) will be situated amidst an …[more]
The new Monarch Hills Condos (at 282 Monarch St) will be situated amidst an amenity-rich landscape in southern Ajax
[more]
The new condos at 27 Harwood Avenue South will provide residents with easy access …[more]
The new condos at 27 Harwood Avenue South will provide residents with easy access to all that Ajax has on offer. Qu
[more]
The new 101 Pickering Beach Road Condos is expected to offer easy access to …[more]
The new 101 Pickering Beach Road Condos is expected to offer easy access to many of Ajax's most popular desti
[more]
Jax Condos will be situated in a charming location in northern Ajax. Quick Facts Project Name Jax …[more]
Jax Condos will be situated in a charming location in northern Ajax. Quick Facts Project Name Jax Condos Building T
[more]
The new Lake Pointe Condos (at 253 Lake Driveway) will be perfectly situated relative …[more]
The new Lake Pointe Condos (at 253 Lake Driveway) will be perfectly situated relative to some of Ajax's most popula
[more]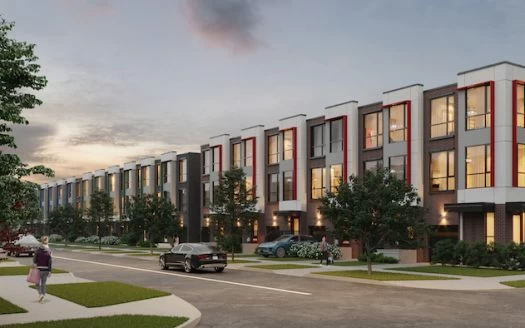 The new Hunters Crossing Towns will offer a living experience that aims to lessen …[more]
The new Hunters Crossing Towns will offer a living experience that aims to lessen the car dependence of its residen
[more]